Movies Under the Walkway
The Millman Harris Romano Foundation, with the help of several other not-for-profits and area businesses, spearheaded the creation of movie nights at Upper Landing Park in Poughkeepsie, NY, in 2015. Taking place through summer and into the fall, Movie Nights Under the Walkway offer free, family-friendly movies open to the public, as well as musical entertainment and food venders. The initiative is part of the Foundation's vision to improve both the quality of life and sense of community in the Hudson Valley.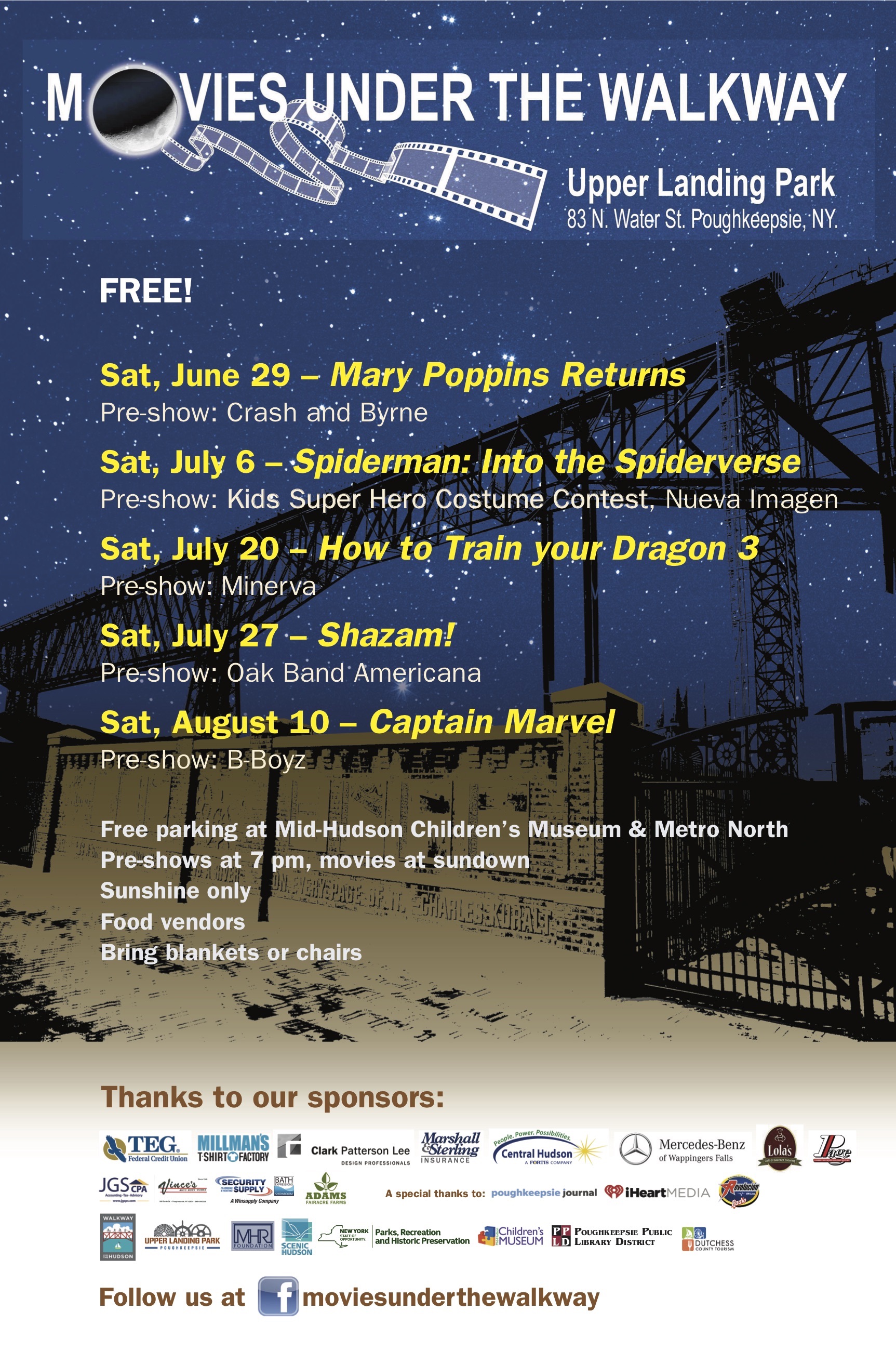 Movies Under The Walkway Is proud to be honored with the Arts Mid-Hudson Patron Award from The Duchess County Executive's Arts Awards! Thank you for all the support! See you summer of 2019!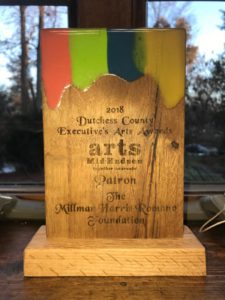 Sponsors
2015's Movies Included:
July 11th, The Night at the Museum, Secret of the Tomb
July 25th, How To Train Your Dragon 2
August 8th, Grease
2016's Movies & Bands Included:
June 24th – Back to the Future (Sunset)
Musical Guest: Matthew Fink and Friends (7PM)
July 9th – Minions (Sunset)
Musical Guest: The Creation Band (7PM)
July 23rd – Star Wars: The Force Awakens (Sunset)
Musical Guest: The Greyhounds (7PM)
August 6th – Alexander and the Terrible, Horrible, and No Good, Very Bad Day (Sunset)
Musical Guest: The Costellos (7PM)
August 20th – Zootopia (Sunset)
Musical Guest: Vito Petroccito and 5 Guys in Disguise (7PM)
2017's Movies & Bands Included:
June 24th – (7PM) Musical Guest: Murali Coryell
(Sunset) Movie: Indiana Jones and the Riaders of the Lost Ark
July 8th – 7:00 pm – Musical Guest: The Costellos
Sunset – The Wizard of Oz
July 22nd – (7PM) Musical Guest: Matthew Fink & Friends
(Sunset) Movie: Star Wars: Rogue One
August 5th – (7PM) Musical Guest: The Terrence Motley Project
(Sunset) Movie: Hidden Figures
August 19th – (7PM) Musical Guest: Vito Pertoccitto and Friends
(Sunset) Movie: Beauty And The Beast (2017)
2018's Movies & Bands Included:
June 30th – (7PM) Musical Guest: Road House Roosters
(Sunset) Movie: Wonder Woman (PG-13)
July 14 – (7PM) Musical Guest: Myroli Coryel
(Sunset) Movie: Jumanji: Welcome to the Jungle (PG-13)
July 21st – (7PM) Musical Guest: Crash and Byrne
(Sunset) Movie: Star Wars: The Last Jedi (PG-13)
August 4th – (7PM) Musical Guest: Grupo Folklorico de Poughkeepsie
(Sunset) Movie: Coco (PG)
August 18th – (7PM) Musical Guest: B-Boyz
(Sunset) Movie: Black Panther (PG-13)
2017 Photos