Free Movie Nights Under the Walkway Return Summer 2016
Five free, family-friendly movie will be shown on the big screen beneath the Walkway Over the Hudson at the Upper Landing Park in Poughkeepsie this summer. Additionally, live musical entertainment, contests and fun for the whole family will precede each movie.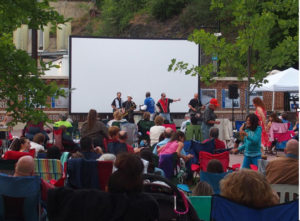 The screening dates, movies and bands are: June 24th – Back to the Future (Matthew Finck and Friends), July 9th- Minions (The Creation Band), July 23rd – Star Wars: The Force Awakens (The Greyhounds), August 6th – Alexander and the Terrible, Horrible and No Good, Very Bad Day (The Costellos) and August 20th, Zootopia (Vito Petroccitto and Five Guys in Disguise).
The fun begins with the bands at 7 p.m., followed by the feature film at sundown at approximately 8:30 p.m. These events are at the Upper Landing Park under the stars, all attending are encouraged to bring blankets and chairs to enjoy the movies.
These community events are free and the public is invited to attend. Local vendors will be on hand to provide food and beverages.
The Millman Harris Romano Foundation, Walkway Over the Hudson, Upper Landing Park and New York Parks Department are the presenting non-profit partners for the film series. Additionally, the Poughkeepsie Public Library District is part of the leadership team for this program. The media sponsors are Iheart Radio and Ballantine Productions, and the promotional sponsors are Clark Patterson Lee Engineers, Millman's T-Shirt Factory, Vince's Auto Body Works, Mid-Hudson Subaru, Rhinebeck Ford, Marshall and Sterling Insurance, Morgan Stanley Wealth Management, and Children's Medical Group.