MHR donates books to City of Poughkeepsie kindergartners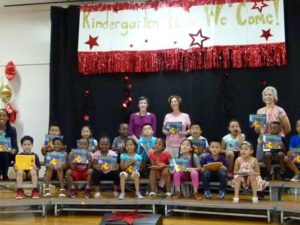 Foundation donates books to kindergartners
Poughkeepsie kindergarten students recently received a new copy of "Alexander and the Terrible, Horrible, No Good, Very Bad Day" by Judith Vorst, from the Millman Harris Romano Foundation.
"We are thrilled to encourage summer reading for Poughkeepsie youth, and equally excited that they can read the book and bring their families to watch the movie under the Walkway, for free," said Jode Millman, foundation chair, as the books were presented in Poughkeepsie's Early Learning Center.
Dr. Nicole Williams, superintendent of Poughkeepsie City School District, thanked the foundation saying, "We extend a heartfelt thank you to both the Poughkeepsie Public Library and the Millman Harris Romano Foundation for their unwavering support of and investment in our students."
Students and their families are also encouraged to attend free "Movie Nights Under the Walkway" throughout the summer, a joint initiative of the Millman Harris Romano Foundation, The Walkway Over the Hudson, and other local entities. The movies will be screened at the Upper Landing Park at dusk with free musical entertainment beginning at 7 p.m.
Local vendors will be on hand for the purchase of food and beverages. Viewing is on a first-come basis. Free parking is available at the Metro North lots.
For information, visit www.mhrfoundation.org or www.walkway.org.
Please share this post:
http://www.poughkeepsiejournal.com/story/life/2016/07/27/good-life/87615260/